The OpenGL ES BoF at SIGGRAPH is still in progress, but let's have some real-time news to go with our real-time rendering! In addition to announcing the availability of OpenGL ES 3.0 and ASTC, several companies were able to announce their plans for OpenGL ES 3.0. Intel's Open-Source Technology Center was there. We are working on ES 3.0, and we have a public branch to prove it: git://anongit.freedesktop.org/mesa/mesa gles3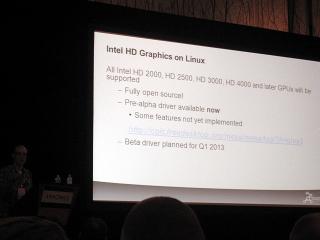 Right now things are "pre-alpha" quality. There are a few features, like ETC2, that are not yet supported. There are also a bunch of holes in support for some enums (both ones that should be supported and ones that should not). At this point, we've enabled a big pile of the functionality, and the driver says "OpenGL ES 3.0 Mesa 8.1-devel". That's why this lives on a branch, and it will continue to live on a branch until at least after the next Mesa release (probably in September).
Like the slide presented at the BoF says, our plan is to have ES 3.0 fully enabled for release in 2013Q1. This probably means February, but we'll see. Software releases happen when they happen.